On the outskirts of Freetown, Sierra Leone, in a community called Waterloo, a hand-painted sign pronounces the Lion Mountain Media Kingdom the 'voice of the voiceless.'
Lion Mountain Radio is a busy community station, in usual times staffed by 10 employees and a handful of volunteers, covering politics, human-interest stories, community events, and health issues – including malaria prevention and treatment, an important topic in a country where the preventable and treatable disease is still a leading cause of illness and death.
So popular is this community radio station that when it drops off the air during frequent power cuts, station manager Kelvin Kamara braces for complaining calls from loyal listeners.
"People rely on us," he says. "If the station goes offline for an hour, people will call and ask what's wrong. This shows clearly they are relying on us for information."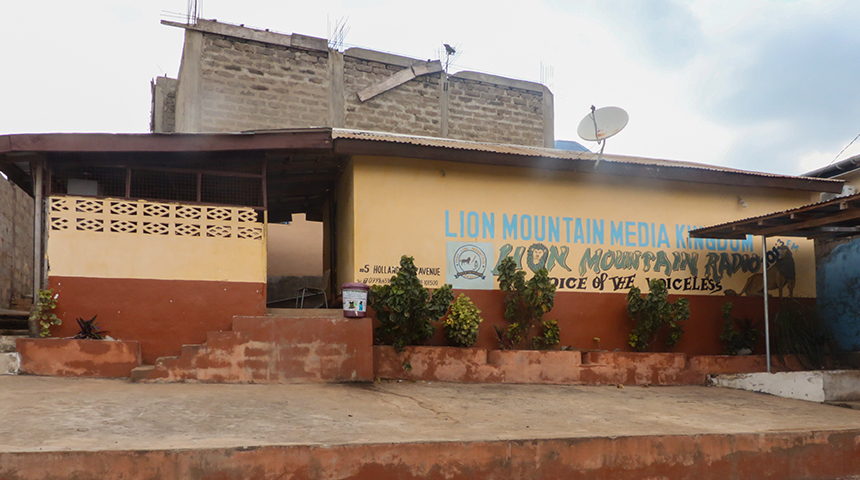 Its most popular programmes are 'Stand Up Sierra Leone', which looks at the country's politics, human interest stories, and development, and its health programmes, including 'Tawo fo Welbodi' (Determined for Health), a national health show funded by Comic Relief and produced by BBC Media Action which is broadcast across the country on community stations like Lion Mountain, and accompanied by local reporting and discussion segments produced by Kelvin's team with external support. During the pandemic, these shows have also addressed COVID-19, talking about symptoms, means of prevention, when to seek treatment, and how to differentiate between COVID-19 and malaria symptoms.
But Lion Mountain Radio is struggling to survive, because support from advertising has gone into freefall. Local businesses that once would have advertised their products and services are now closing up because of the economic downturn associated with the pandemic. And their entertainment broadcasts, which also earned advertising dollars, have succumbed to a national curfew and ban on large gatherings.
The station has laid off half of its staff, because it was impossible to pay their salaries. And so far, support from outside donors has been the difference between survival and going off-air. BBC Media Action and other donors have helped the station pay for fuel to run the generator that allows the radio station to operate during frequent power cuts, and to allow their remaining journalists to cover stories effectively.
Lion Mountain's journalists have also been trained in BBC Media Action's Lifeline broadcasting approach, to ensure their audience is receiving the information they need and trust during the pandemic.
Without this support, Kelvin is not certain the station will survive the pandemic.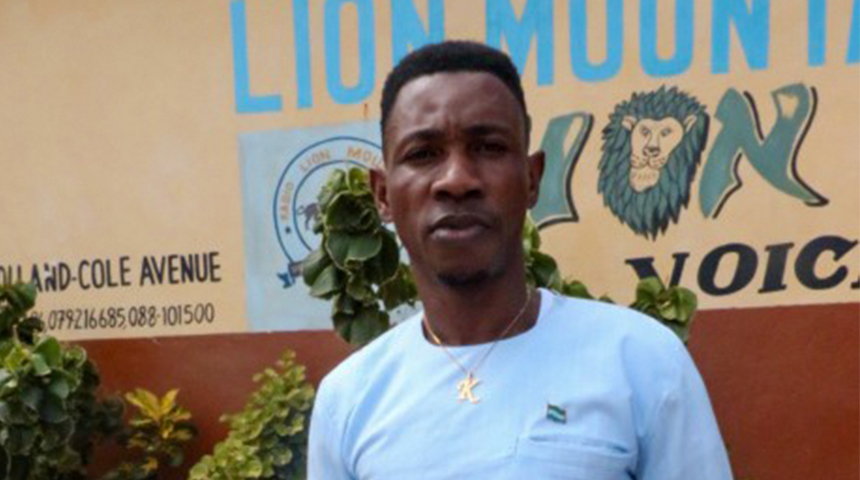 "I don't know what will happen if this continues. It's a big challenge. You can't keep on encountering difficulties all the time without any progress. It is very serious," Kelvin says.
Kelvin is proud of the station's record: He has been with Lion Mountain since its founding more than 10 years ago, including through the country's Ebola crisis, and believes it plays an important role in ensuring listeners know their rights and can hold leaders to account.
Sierra Leone has a vibrant but polarised media scene, in which media is not often trusted to be impartial and factual. The government has also recently struck down a criminal libel law, replacing it with an Independent Media Commission which some fear could be used to silence media houses who voice opposition to the ruling party. In this environment, public interest media which are impartial and share trusted information are even more critical.
"I think it's important that people are able to know their roles and responsibilities, what they should do and not do, where to go to access information, and what are their needs and their rights that government should be meeting," Kelvin says. "I believe people now know that in this time of COVID-19., we all need to come together and fight to stop the spread of this disease."