Work with us
We want to work with talented individuals who connect with our mission on a personal and professional level.
We're looking for people who are passionate and knowledgeable about what they do – those who truly believe they can make a lasting contribution to the Luminate mission. You will be joining a global team of tenacious, resourceful, and self-motivated colleagues.
Diversity
At Luminate, we know that having a diverse team based in the regions we work in will give us the best chance of having the greatest impact. With this in mind, we actively seek diversity and champion equality and inclusion across all aspects of our work. You can find our Diversity policy here, and read about our progress on this front here.
Values
All our work is guided by five values: dedication, imagination, dynamism, inclusivity, and integrity. Read more here.
What our people say
"The work we do here matters. It's deeply rewarding to invest in people and their ideas – turning bold missions into sustainable change. I was initially attracted by Luminate's constructive process, particularly the emphasis on civic participation and asking the right questions. It showed a deliberate effort to empower people at a grassroots level. My role gives me a lot of latitude. I'm empowered to find innovative ways to invest."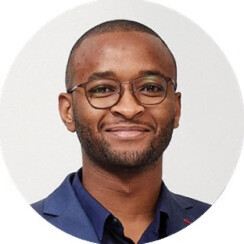 Stan Getui
Director