Update (8 September 2022): Inside Philanthropy interviewed Laura Bacon and featured Luminate among a small group of US-based funders providing wellness support to their grantees.
At the start of this year we wrote about our "Wellness Stipend" program, which launched in 2020 to give select partners (grantees and investees) the ability and license to take small but important steps toward support, healing, and resilience. Luminate's wellness stipend initiative drew lessons from others, and we'd like to share our reflections and learnings from the first year of our program in the hope of inspiring more funders to prioritize and promote wellbeing for their partners.
Luminate's Wellness Stipend initiative did not require proposals, nor did we ask for extensive reporting. Instead we asked three learning questions of recipients, which partners could answer via a short email response, or through a conversation with their Luminate Funding Lead.
How did you spend the stipend?
What did you learn about supporting wellness at your organization?
What should Luminate know about supporting wellness of its partners?
Based on a review of these responses and insights from our partners, we assessed Year 1 of our Wellness Stipend program. Here's what we found.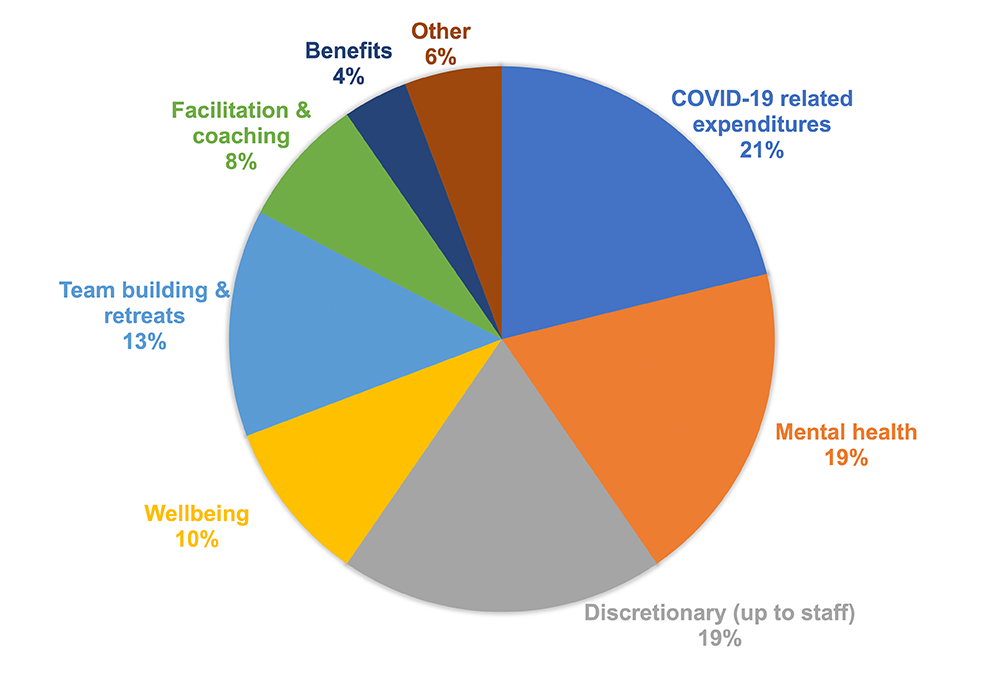 Two models emerged for how Partners spent / distributed the stipends:
Full-team interventions, such as team-building retreats, making counseling available to staff, safer transport options during COVID-19. Some organizations complemented the stipend with funds from their organizational budgets, in a move toward institutionalization of these wellbeing measures.
Individual discretionary stipends, which staff could use as they chose. Stipends were used to cover personal medical expenses, moving to be closer to family, private therapy, athletic equipment, a new mattress, charitable donations, hiking boots, car repair, hobbies, groceries, items to entertain or educate kids at home during COVID-19, and wellbeing activities such as yoga.
"
"We learnt that some of the best wellness interventions were those that gave staff flexibility in how they used the funds." - Wellness stipend recipient
Learning about what worked
Luminate's proactive wellness support received very positive reviews. Partner feedback suggest that this was the right program at the right time, and we heard from recipients that the program:
Signaled the importance of mental health: Many organization leaders noted that prioritizing mental health was a significant signal to our field and to staff.
Influenced other funders: Luminate's actions gave partners more leverage to raise these issues with other donors.
Affirmed humanity: Stipends allowed our partners and Luminate to put values into practice, caring for the whole person.
Institutionalized wellness: Stipends often encouraged or accelerated longer-term wellness plans for teams.
Strengthened teams: The stipend process, itself, bonded teams as they sparked discussions about wellness and/or enabled team building through retreats, events, etc.
Learning about challenges, considerations, and constraints
Through our conversations with partners, we heard helpful feedback on ways the program could be improved.
Dependence and sustainability issues: The one-off nature of this program created sustainability issues in several cases. For instance, organizations used the stipends for life insurance, health insurance, and counseling, but then did not have the funding to continue these programs past Year 1.
"Protected" stipends have pros and cons: Because these stipends were restricted to wellbeing initiatives, organizations were empowered to use them for something they may not have otherwise prioritized. That said, by nature, these grants were directive and restricted (to wellness), which our funding model generally tries to avoid.
Lack of guidance: More specific guidance to organizations could have been helpful, both to spark ideas, but also to demonstrate that the stipends could be spent on a wide range of items. Given the power dynamics that exist between funders and grantees, we hadn't wanted to suggest anything, as we'd heard from other funders that organizations may feel pressure to follow our guidance. But we realized that some partners just want to brainstorm ideas, and that our offering examples could help.
Personal & professional boundaries: The process adopted by some organizations blurred boundaries and/or crossed those lines. For example, one organization asked staff to submit receipts from therapy appointments covered by the stipend.
Equality and equity issues: Some Luminate teams chose not to make use of this program, for various reasons. Furthermore, we did not open this to all partners for application, as our budget was limited, and we did not want to reject anyone. Funding Leads used criteria to select organizations most in need, but we cannot be certain that our partners who needed this most received a wellness stipend.
Recommendations and best practices
Continuation: Where possible, provide wellness and other types of "protected" stipends. Distributing smaller stipends can enable funders to reach a higher number of partners.
Sustainability: Encourage and support partners to invest in long-term wellness plans.
Empowerment & guidance: Give full agency/autonomy to organizations to decide how to use stipends; however, offer suggestions or examples if they ask.
Flexible use: Encourage organizations to consider individual stipends (rather than team-wide programs), as those got particularly positive reviews. However, the popularity of this model needs to be balanced with a desire to institutionalize wellbeing, which must transcend individual spending.
Discretionary stipends: Some organizations distributed stipends to individuals, and the amounts were inversely proportional to salaries (i.e., lowest-paid staff received the highest-amount stipends), and/or allocated stipends to staff with fewer social safety nets (e.g., frontline workers).
Boundaries: Encourage discretion and confidentiality on sensitive matters such as therapy.
Next steps
After our 2020 pilot program, we continued to disburse wellness stipends in 2021. To date, we've disbursed 71 wellness stipends, for a total of $383,500.
We carefully reviewed each mini-report submitted by partners, but we have a lot more to learn. In late 2021, Luminate will convene all wellness stipend recipients for a virtual gathering to discuss how the funds were spent and how they encourage institutionalization of wellbeing efforts in workplaces.
We thank each partner for engaging fully with this program, and we look forward to continuing this type of support in the future.