"
We are on a knife edge now - If we have no funding by next spring we will have to stop operations. But I'd rather shut down than accept tainted money from partisan sources."
"When I walk down the street, I hold my head high because I know I'm not in anyone's pocket," says Nihad Al-Jaberi, senior editor at Radio Al Mirbad in Basra, Southern Iraq.
"I know who I am serving: we decide what to cover based on how relevant and important it is to our society."
Nihad and her colleagues at Radio Al Mirbad have been able to maintain editorial independence in the highly partisan and politicised environment of Southern Iraq because of external funding from government donors.
The station was initiated in 2005 by BBC Media Action, the BBC's international charity, which works in media development. It was supported by several international donors as part of Iraq's post-war reconstruction effort. Over the past 15 years, it has grown huge audiences across its radio output, YouTube, and social media channels, with almost half (48%) of Basra's residents tuning in to its content via radio or online at least once a week.
The station has become popular across Iraq for its satirical comedy shows as much as for its investigations and public information campaigns. Its YouTube comedy channel has 8 million subscribers and the videos have been watched more than two billion times on that platform alone.
Research from BBC Media Action shows that among those who watch this channel regularly, 89 per cent agree that it addresses issues that Iraqi citizens face wherever they are and 82 per cent agree that its comedy contributes to changing bad practices in society.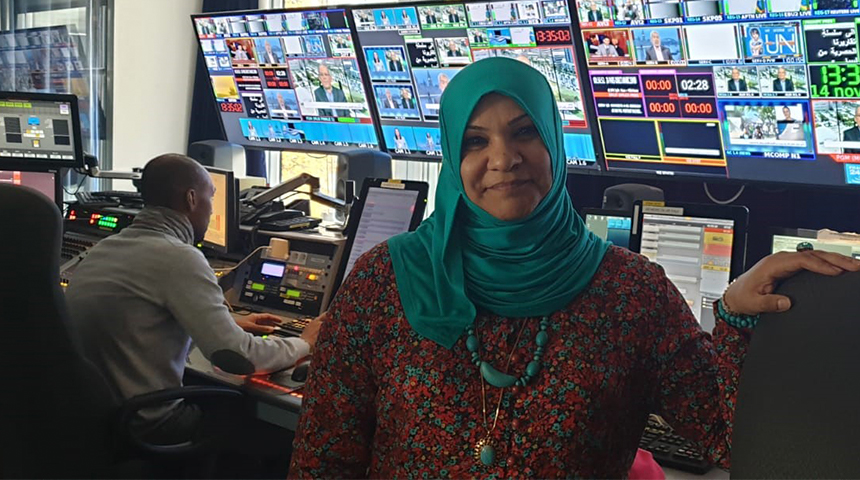 Nihad describes the radio station's role in promoting constructive dialogue between citizens and the authorities, holding those in power to account by bringing the microphones and the cameras to them wherever they are.
"We help resolve issues that will otherwise remain neglected. There is so much corruption and lack of oversight. For example, we set up our pop-up podium on a major highway that was so badly maintained, claiming many lives and causing disruption in a major route for the essential oil sector transport. People came and spoke out. We gave them a voice," she says.
After recording the programme, the team took it to the Governor of Basra and followed up for more than a year. Work is now underway on the road and in a recent press conference, the Governor asked Al Mirbad to go back and ask people what they think of the road now. "He was a bit grumpy, but it's the best indication that he understands that he has to be personally accountable," Nihad says.
When the coronavirus pandemic hit Iraq in spring 2020, Radio Al Mirbad was forced to scale back its general programmes and divert their attention to the new challenges.
"Iraqis struggle with the notion of being quarantined at home when there isn't a war," says Nihad, who lost her own mother to the virus. "Helping people to understand the need for quarantine was the task we took on."
A ministry of health spokesperson said that without the station's output, they would have had no means of reaching people with critical public health information. Al Mirbad's well-known comedy stars teamed up with ambulance, police, and hospital staff to produce videos that explained how to deal with emergencies and avoid infection.
Unfortunately, Radio Al Mirbad has also suffered further funding cuts because of COVID-19. The pandemic has also had an impact on international donors, on whom Al Mirbad has also relied for funding. What little revenue they gained from advertising (never more than 20% of its US$1m annual running costs at the best of times) has dried up.
"We are on a knife edge now - If we have no funding by next spring we will have to stop operations," says Nihad. "But I'd rather shut down than accept tainted money from partisan sources.
"Donors should take note that cutting that lifeline off means cutting down or ending this incredibly positive role that the media can have, especially in a context that is so fragile and transitional as Iraq."
Iraq's economy is not sufficiently developed to offer sufficient sources of commercial funding. The tradition of public subsidies without editorial interference from government does not exist.
"Independent funding guarantees Al Mirbad's ability to operate impartially and serve the public's right to information," says Nihad. "Without it there is no independence."